---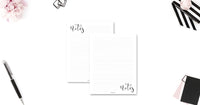 Sale
Cute Printable Notes Pages (US Letter & A4)
Sale price $2.50 Regular price $4.50
Cute printable notes pages in 2 different sizes (US letter and A4).
The printable set has 5 design variations of the notes pages:
3 different black and white versions of the design
+ One with pretty pink boarders
+ One with elegant beige boarders
NOTE: Instant digital download. Nothing will be shipped.
You can add these pretty notes pages to your existing planner or use them as is. 
Great for creating a journal or even your own notebook.
And as a bonus, you'll get mini notes pages. They're about index card -sized notes (4 notes on one US LETTER). The bonus is only US letter-sized but you can resize it to fit A4 and cut the excess parts. 
The full-page notes pages:
SIZES included: US LETTER & A4
Bonus: mini notes
SIZE: ONLY US letter
______
Note: This product is an instant digital download. Nothing will be shipped.
All designs © SaturdayGift Ltd. For personal use only, not to be copied, distributed, altered, or sold.
All of the products in the SaturdayGift Shop are digital downloads only. 
Some devices like phones and iPads don't allow downloading through a link. I recommend to use your computer to download the files.
NOTE
*** Unfortunately, I am unable to provide personalized technical help for downloading products because technology differs over devices. ***
But in case you're having trouble downloading your products, here are some quick tips that might help you.
What happens after you purchase a digital product from the SaturdayGift Shop?
To download the product you purchased you have two ways to download your product:
After you've purchased the product you'll be directed to a thank you page. There you'll see a box saying "preparing your downloads". If you wait long enough you after the "preparations" are done, you click to download the files.
You will also receive an email that says "Your downloads are ready". And there you have a button that you can click to download your purchase.
Can't view the PDF file?
All of the planners, binders and workbooks are sent in a PDF format.
Most of the computers have Adobe Reader (which is free) or something similar. You'll need a program like that to view a PDF file. If yours doesn't have a program to view PDFs yet, you can download for example Adobe Acrobat Reader free. >>> Google Adobe Acrobat Reader.
Can't open the .ZIP file?
Some of the products are sent to you as compressed PDF files. 
Here's how to unzip a ZIP file:
Laptop/desktop: Save .zip file to your computer. Right click the file. Choose "Extract All". Or with some computers you can double-click the .zip file and that will extract the files. TIP! If you save the extracted files to iCloud or DropBox then you can easily access the files also on your mobile device.
On mobile devices: Before you unzip your files on your mobile, check if you need an app to extract your .zip files. If you do need an app to open the .zip files, you can check your app store for File Explorer (free). 
Note: I recommend using your computer to download and extract the files.
Can't find the downloads from your computer after you've downloaded them?
Check My Computer > Downloads OR
Finder > Downloads OR
Search the file name (product name) from your computer and locate the file that way
I hope these quick tips helped, and you can start using and enjoying your digital products.